Sentinal Steam Wagon & Carriage Co.Ltd. 4wVBT, Works No.6994/1927
This 4 wheeled vertical boilered tank locomotive, started life as the power unit of a Sentinel Steam Railcar supplied to the Jersey Eastern Railway in October 1927, whereit was named 'BRITTANY'. When the line closed due to road competition on the 21st June 1929, the coach body was separated from the power unit, with the body being used as a holiday bungalow in a garden at Greve d'Azette, with the power unit being sent to England, where it was re-clad as a shunting locomotive.
On the 23rd November 1929, A. O. Hill Ltd, ship breakers, Admiralty Dockyard Dover purchased the whole of the plant, permanent way and movable effects of the Jersey South Eastern Railway. On the 11th April 1931, the "RINGWOOD", a ship belonging to the Southern Railway Company docked at Southampton from Jersey, according to the ships manifest, the cargo included what was described as a "chassis", it is thought that this was the power unit from Sentinel 4wVBT No. 6994 "BRITTANY". No other shipment of any locomotive from Jersey has been traced.
The locomotive was purchased by the Admiralty, and sent to Chatham Dockyard where it worked until 1932, on the 29th April 1932, the Admiralty advertised the locomotive for sale. The locomotive was sold to George Cohen, Sons & Co.Ltd. and had arrived at their Bidder Street Scrapyard, Canning Town, London by the 17th July 1933. The locomotive was hired [ dates unknown ] to The Canning Town Glass Works.
By the 28th February 1935, the locomotive had been sold to William Jones Ltd. of Greenwich, London who rebuilt it with a steel body as a 0-4-0 geared shunting locomotive and was sold cheaply to J. S. Peters, who had recently formed the Merstham Lime Company Ltd. On arrival at Merstham, the gearing was altered from the original 1-1 to a more useful 3-1 for industrial use, it is believed that whilst at Merstham, the locomotive gained the name 'DOM', the name being taken from the Dorking, Oxted & Merstham Lime Works. In 1946, following the end of rail traction at Merstham, the locomotive was moved to the Standard Brick & Sand Company at Redhill, Surrey.
In June 1962, It moved again, this time to the Kent & East Sussex Railway where it remained until March 1973 when it was sent to Aylesbury Scrap Metals, Griffin Lane, Aylesbury for scrapping. The locomotive was scrapped in April 1973. It is known that the crankcase of No. 6994 is in use in Sentinel No. 6515.
It is understood that a preservation group has been formed to re-create a Sentinel Steam Railcar and in late 2011, the bodyshell of the railcar was recovered from Jersey, and is being used to rebuild a replacement body, along with a post-war locomotive chassis and boiler to recreate the power unit.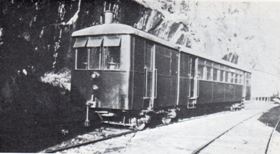 Many thanks to the Industrial Locomotive Society for their help in piecing together the history of this locomotive.